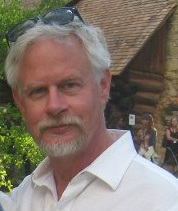 Kraig Kiedrowski/ Painter Printmaker
Kraig Kiedrowski works in a variety of media executing his paintings in oils pastels watercolor and mixed media.  Born and raised in Montana he studied in New York at the Art Students League in his early 20s and eventually settled in Northern California with his wife Lucinda and took up outdoor painting.  Soon he was showing his landscapes in galleries and competitions. He attributes his love of landscape and the outdoors to his boyhood in Montana and explorations of coastal Northern California. In addition to landscapes Kraig challenges himself with architectural subjects occasional portraits and still life and has a special passion for life drawing. Kraig has taught a number of classes and workshops in oil painting pastels sketching from nature landscape painting and methods and materials in art. He currently teaches a popular weekly class in figure drawing at the Coppini Academy in San Antonio, Texas.
A participant in several group and gallery shows, his work appears in many collections, public and private and has been recognized with several awards and honors.  Kraig has participated in the Maynard Dixon Country Show at the Thunderbird Foundation for the Arts in Southern Utah for the past 14 years and is a founding member.  He shows his work regularly at The Hunt Gallery in San Antonio, Texas where he had his third solo show in 2014,  and the Bingham Gallery of Fine Art in Mount Carmel, Utah.